Psalm 119: A Love Ode - Print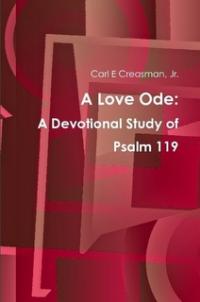 Based on teaching presented at fluid, the worship service for Numinous, come discover that Psalm 119 isn't merely some long, repetitive list of rules to obey. Rather be captured by the beauty of this psalm that presents, again and again, a call to fall in love with God's directives about how to live.
While this study can be read simply as a stand-alone book, it is designed to be broken into 27 different daily studies that covers both an overview of the book along with a day devoted to each of the 22 separate sections of the psalm.
$6.99
Tracking the Storm: Uncovering the Pattern to Great Crisis - Print
 Tracking the Storm provides powerful clues about what is coming, rapidly, to the United States. There is little doubt that a storm is approaching the country, the outer edges of the winds already swirling around us. What does that portend for the nation? Through the clues of history, we can find direction and steps to undertake in preparation. Many believe there won't be a storm, or maybe that the worst is over. With history as a guide, Carl demonstrates that we haven't yet even reached the Great Crisis.
Gripping and "a scary yet necessary read,"  moves through the past 400 years of Anglo-American history to illustrate the various clues provided that show the steps to the coming crisis. Carl tells the story of political instability, economic distress, rapid technological changes and a growing philosophical divide that challenged previous generations. At the end of each Great Crisis, the nation had been radically changed.
$8.47
Full Throttle: High Octane Insights on Achieving Your Dreams - Print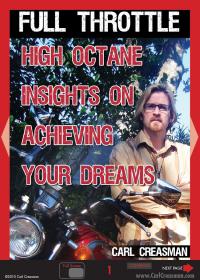 Sometimes I think that speakers and authors share a lot about how to achieve your dreams, goal setting and so forth, yet you sometimes wonder if they ever actually do those things too. I mean, are they a famous author because they actually did all the steps in their guide, or just because people like me buy their books?
So, I wrote this book for you based on my own recent experience of pursuing my dream to start riding a motorcycle. I know, I know--not really "life-changing" per se, but it meant a lot to me. And, I think if you'll take a few minutes to read along, you'll see strategies that you can implement immediately that will impact your life. You will soon be applying these high octane insights to achieving your own dreams.
$6.77
Success for Life Book - Print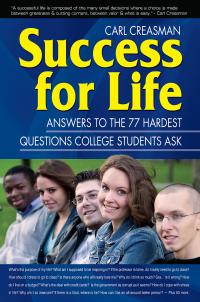 In 2007, Carl conducted a nationwide survey of young adults asking "what are the most difficult questions you face?"  After receiving over 1000 unique questions, Carl narrowed down the responses to the top 77 questions.
"Should I get a loan for college?"
"Do I have a big neon sign plastered on my forehead that says 'I just want to be friends'?"
The far-ranging subjects run from scholastic ("how do I pick a good professor?") to financial ("How do I live on a budget?") to life oriented ("Are my parents  proud of my decisions?" )
Every page gets a pithy one to two-page answer incorporating both the wisdom and insight of Carl along with experts from a variety of fields.  The hope for students is that each short reading will motivate them to dig deeper into areas of their greatest questions and concerns.
So far, the response from students, parents and College coordinators have been very positive.  The book has been used in student leadership courses and student success courses with solid reviews.
$8.98
A Numinous Hope - Print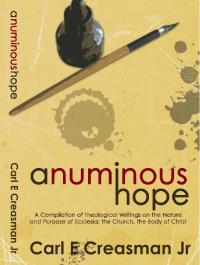 Numinous is the name of the Christian ministry started by Carl & Kim Creasman in 1998. At the core of Carl's vision lies a hope, a dream of actually being a united group of fellow nomads on a journey together, experiencing the life of Christian believers connected deeply to one another.

That story is the reality of the first church, if the history written in the book of Acts is to be believed. This book, then, is a collection of writings defining the concept of community, explaining why it matters, and demonstrating how Numinous Church does it. These writings challenge long held assumptions about what "church" means and how it is important for today.

The compilation contains three selections: a theological exposition of the ideas that inspired the birth of Numinous written in 2003, a shorter collection of Carl's newsletter articles on the theology of community written in 2007, and a collection of Carl's emails to the church body of Numinous over the years since the church's start in the year 2000.
$14.98
Ten Keys to Extraordinary Leadership - Print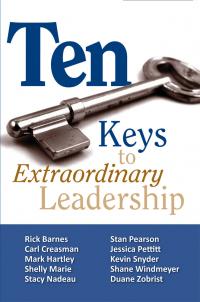 Carl has joined with nine revolutionary and powerful speakers to create a "must have" book on leadership.  There are many books on leadership out and about, but these speakers are "front line" communicators within the topic.  And, their take on leadership avoids the familiar path often taken.
The communicators represented here come from varied backgrounds that include legendary College speaker Rick Barnes, former Dove girl Stacy Nadeau, etiquette expert Shelly Marie, national leader in gay & lesbian civil rights Shane Windmeyer and diversity expert Stan Pearson.
Not surprisingly, their topics range from diversity to creating a lifetime experience of leadership to building allies in leadership.  Carl presents core leadership traits from history that powerfully explain how to make your personal leadership potential explode!
Get your hands on this book now!
$9.97
Extreme Living, Extreme Valor - Video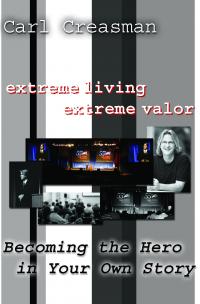 In 2007, Carl had the honor of being the keynote speaker at the Ohio SkillsUSA State Conference.  There, Carl brought the audience to its feet with a powerful presentation about the keys to successful living, living that is extreme with valor and values at the center.
The State Director said, "You could feel the emotion in the crowd as they took your message in." Now, you can experience the same intensity and depth of emotional teaching as the participants in the auditorium that day in Ohio.  
Order your copy today.
$7.97
Anodyne - "The Comfort of Chaos" - Audio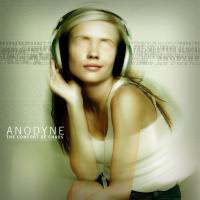 From 2000-2008, Carl was the lead singer for the Central Florida rock band Anodyne.  In 2007, they released their last CD before breaking up.  If you life traditional rock, then you'll enjoy the music of Anodyne.  The new album, The Comfort of Chaos centered on the theme that often we allow too much noise into our lives.  As such, individuals can find comfort in that chaos and thus lose the ability to hear truth; they can lose the ability to hear instructions for how to change their lives for the better, how to achieve their dreams.
Want to listen or only get the digital download?  Click here.
$6.97